The topic of climate change is not without its fair share of controversy, and while there are dozens of conflicting scientific and political perspectives at play, one positive that has emerged from the chaos is that the average global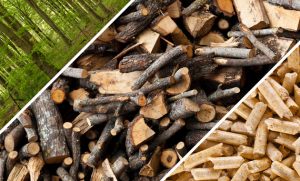 citizen is far more aware of the importance of sustainability and environmental responsibility than perhaps ever before. This has trickled into the realm of official policy making, as developed nations all over the world have begun to turn their attention towards diversifying their energy portfolios to include renewable fuel sources. Along these lines, biomass energy (i.e., the use of organic materials as an energy source) has emerged as a viable alternative to traditional fossil fuels, with the use of wood pellets in particular taking a lead role in terms of contributing to a more diverse energy mix. Comprised of compacted sawdust and other by-products of the lumber, construction and furniture-making industries, wood pellets are a highly energy-efficient fuel source for use in residential and small commercial heating purposes, but they are also being utilized by the industrial energy market to generate electricity by being co-fired with coal in large-scale power plants.
This burgeoning source of alternative fuel is not without its detractors, however: There has been a persistent notion that the carbon emissions generated by burning wood pellets outweighs the amount of carbon sequestered by new and growing trees, leading to an imbalance in carbon output that is damaging the environment. In reality, there are more nuances to the impact of biomass energy on carbon levels than this assertion takes into consideration. For example, if a tree were cut down and used for biomass energy, it is true that it may take anywhere between 20 to even 100 years for another tree to grow in its place and sequester an amount of carbon equivalent to what would be released by burning the harvested tree. The detail that is often overlooked in this analysis is that the carbon sequestration rate does not remain constant once you scale the example out from one single tree to an entire forest. At the landscape scale, the rate at which carbon is re-sequestered increases exponentially, and with sustainable forest management practices in place (e.g., total tree growth outpacing total harvest), the amount of carbon that is released by burning the harvested wood is basically sequestered immediately.
The analysis proffered by skeptics also fails to take into account that the bulk of timber harvested does not end up in the incinerators at biomass power plants; in fact, wood pellets primarily consist of the scraps or "leftovers" of timber industry operations, such as broken trees, limbs, tops, and other by-products that were previously left to rot on the forest floor. According to the Timber Transaction Price Service published by RISI, the average price of biomass feedstock in 2015 came in at $1.57 per ton, while the price of intact sawlogs (used in the production of lumber) fetched between $20.10 and $24.71 per ton. To be sure, forest landowners have a greater economic incentive when they focus on producing intact sawlogs, not scraps for biomass. This provides the impetus behind proper forest management, which in turn benefits both the lumber and biomass industries.
In April of 2016, the U.S. Senate passed the Energy Policy Modernization Act (S. 2012), a bill that included an amendment that recognizes the carbon neutrality of energy derived from forest biomass, given that forest stocks are stable and increasing. While this bill continues to receive criticism from some environmentalist groups, studies show that biomass energy could play a key role in reducing greenhouse gas emissions, maintaining healthy forests and decreasing our reliance on traditional fossil fuels.