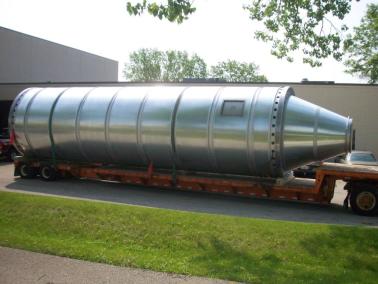 A few years back, the idea of using a drying system to deal with waste or unwanted biomass was in some ways novel. Not that people didn't understand the concept, in fact humanity has been using dried biomass as an energy source since the dawn of time (think man discovering fire and putting it to dry wood!) It is just that in recent years people have become completely dependent petroleum based fuels. In addition, when it comes to disposing of waste like municipal sludge, "out of sight, out of mind" worked well until there was no more room left to keep it out of sight!
It is for this and many other reasons that Uzelac's Duske Drying Systems are becoming more popular by the day. Unfortunately, popularity can also bring with it misconceptions. Some people got the incorrect idea that we specialized in only smaller drum dryers. That just isn't the case. In fact, we can design and manufacture drying systems that require dryer drums from 6' to 13' in diameter and up to 70' in length. Right now, we have quite a few larger drums operating around the globe. We work with giants like Cargill, Hormel, and Tyson, so we know "big" as well as anyone in the industry.
Of course, we still give every one of our clients the exact same outstanding customer service. The bottom line is that we are a custom drying system company that will meet or exceed our customer's needs and expectation, no matter how big or small.