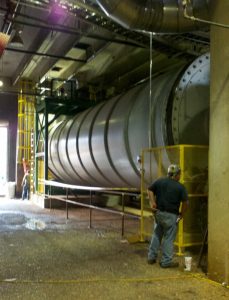 The rendering industry is a vast force in the U.S. economy, though it goes relatively unmentioned in general public discourse or media, unless approached indirectly in relation to another industry, perhaps most notably meat processing.  While meat processing certainly is a significant portion of the overall rendering sphere, the umbrella of rendering extends into several different parts of the food industry, and its processes actually allow many pieces of the food industry to operate more efficiently and in a way that's easier on the environment.
The National Renderers Association recently put out this great informational video about the rendering industry, which provides a great background and overview of the various impacts and applications of rendering that exist in the U.S.  For instance, it might be surprising to learn that rendering is responsible for collecting, processing, and converting some 60 billion pounds of animal by-products from meat, poultry, and fish processing operations into useful products and additives such as animal and pet feed supplements, soaps, detergents, lubricants, and more.  Renderers come in at multiple stages of the farming and food industries to take unused or discarded animal by-products to recycle them into these useful ways; from feathermeal and eggshells, to scraps from grocery stores and butchers, to excess and used cooking oil and grease from restaurants, renderers are the premier and original recyclers in the food and farming industries, accounting for responsible reuse of 60 billion pounds of what otherwise would end up in landfills, or worse.
Uzelac Industries is proud to service and support this vital industry with the best capital equipment for custom drying applications available.  In upcoming blogs, we'll explore some more particulars of the different intersections of this industry that we serve more specifically.  Tweet @UzelacInd to get in touch, or check our website for more information, and be sure to check back here at our blog as we continue to explore some of the finer details of the different rendering processes, and our role in making it all happen.