Climate change has been a hot-button issue for quite a while now, and while there are scores of different theories and ideas regarding its impact on human life, no one can deny that adopting sustainable practices for energy usage is a step in the right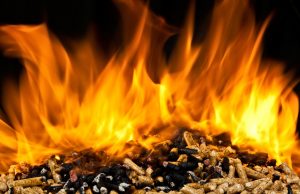 direction. One of the most significant developments along these lines has been the growing use of biomass products (e.g., tree scraps, woody or grassy plants, algae, agricultural residue, etc.) as a renewable energy source, and among the many different types of biomass fuels that are available, wood pellets have emerged as one of the most popular choices for home heating and industrial power production. Nearly one million homes in the U.S. use biomass wood pellets for home heating, as this convenient and cost-effective fuel source enables households to stay warm while also "going green."
Benefits of Using Wood Pellets for Home Heating
Wood pellets and biomass energy sources in general – contribute towards reducing greenhouse gas emissions. Burning wood pellets for fuel is considered to be a "carbon neutral" practice, because the carbon dioxide that is released while the pellets are burning is roughly equivalent to the amount of carbon dioxide that was captured during the growth of the source vegetation. As we continue to properly maintain our woodlands by growing trees to replace the ones that have been harvested, the life cycle of our wood sources becomes truly sustainable, resulting in very little to no net carbon emissions.
Wood pellets are highly compressed, low-moisture and extremely dense, which allows for a very efficient combustion process. In addition, wood pellets are 100 percent natural, which means that they do not contain any additives or chemicals that could be harmful or toxic when incinerated. Wood pellets also burn clean, producing no smoke, unpleasant smells or excessively dry air.
Wood pellets are one of the most economical fuel sources available, being less expensive on a per-use basis than heating oil, electric resistance or propane. The cost to heat your home with a wood pellet stove will typically average around $50-$60 per month during the winter season, versus the typical average of $250 per month for fuel-heated homes. In addition, wood pellets are largely a regional fuel source, as the United States has a robust and rapidly growing wood pellet manufacturing industry. This means that the cost of production, storage and transportation of wood pellets is typically lower by comparison than other fuel sources that are imported from other countries.
Using wood pellets is a great way to reduce environmental waste. Since wood pellets are produced primarily from wood chips, sawdust, bark, and other waste products from the lumber industry, converting this scrap material into a fuel source essentially reduces the amount of waste that ends up in our landfills.
As the world's energy demands continue to rise, it only makes sense to seek out alternative sources of fuel that can offer efficient performance while producing minimal negative environmental impact. Biomass wood pellet products are the perfect fit for this purpose, and if the rapidly increasing demand for wood pellets is any indication, it appears as though households all over the world are getting the message.