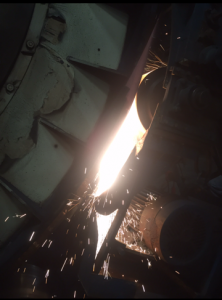 At Uzelac Industries, we've been busy getting everything aligned to offer one of our biggest innovations yet:
New ways to resurface or replace your MEC dryer drum track/tires that can save hundreds of thousands of dollars in lost downtime and even extend the life of your machinery.
We have the experience and equipment ready to go and we do it in a safe, efficient matter.
Beyond saving you money and prolonging the life of your bearings, trunnions, thrust rollers and even the track/tire itself, our process actually improves your dryer tracking performance and reduces your trunnion adjustment.
For a free consultation, call us today at 620-325-2269.
Or, keep reading to learn more.
TRACK RESURFACING
Everyone knows that keeping the surface of your tracks smooth is step one of a happy dryer system.
Resurfacing track/tires creates a flat level surface, which:
• Eliminates pitting and prevents cracking
• Eliminates vibration by removing ripples in track
• Prolongs life of bearings, trunnions, thrust rollers and the track/tires itself
• Improves dryer tracking performance & reduced trunnion adjustment
Uzelac is able to resurface MEC drum track/tries, safely and efficiently, minimizing downtime.
REPLACING END TRACK/TIRES
Uzelac also has the ability to replace track/tires located in the end of your dryer drum using proven, tried and true methods.
REPLACING IN-BOARD TRACK/TIRES
Uzelac is also proud to offer a new, alternative technology to replace in-board tracks.
Our process reduces downtime during replacement by over 50%. We completely eliminate the need to cut-off the end of the drum to replace the track/tires.
As just one example, we replaced the in-board track on a 12' x 72' MEC drum for a customer in Dallas. This drum has been running for over 6 months without any issue. Our technology saved the Dallas facility over 130 hours of downtime, compared to the traditional process.
In the words of one happy customer, "It's been six months and I haven't even had to touch my trunnions yet!"
For a free consultation, call us today at (620)325-2269 or visit us at 409 Main Street, Neodesha, KS 66757.