Company: Uzelac Industries Inc.
Address:: 6901 Industrial Loop Greendale, WI 53129
Position Type: Full-time, On-site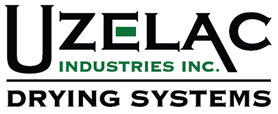 Company Introduction
Uzelac Industries Inc. is one of the top rotary dryer manufacturers in the world. We have spent the last 30 years as the leading rotary dryer company for the rendering industry and have worked hard in recent years to expand our market reach to other industries such as dairy bedding, poultry manure, municipal biosolids, and many more. This expansion has ramped up growth, driving a need for additional talented team members to keep up with demand and allow the growth to continue. We are able to offer the stability and benefits of being a well-known name in our industry but still present all the benefits of being a small company. We are looking for someone who is self-driven, creative, and has a strong desire for continual learning.
General Job Responsibilities
File paperwork
Answer phones
Greet visitors
General Administrative paperwork
Update production Schedule
Orders (Create Parts Quotes, Enter New Orders & Customers, close shop Jobs.
Accounts Receivable (Invoice customers for shipments, follow up past due invoices)
Purchasing (Enter Vendor PO's, Fill requirements from stock and POs)
Shipping (Pack & ship small orders, prepare paperwork/Bill of Lading for large shipments)
Receiving (Receive shipments, enter vendor invoices, add new vendors)
Inventory Management
Experience Qualifications:
• Experience in JobBOSS2
• Experience in Microsoft Word & Excel
• Experience in Packing/Shipping with UPS/FedEx
• Inventory Management
Benefits
We work to improve our team by sponsoring various training opportunities and certificate programs
An employee and family oriented company culture
Health Insurance
Vision and Dental Insurance
Company paid health premiums
401(k) with match
Paid Vacation