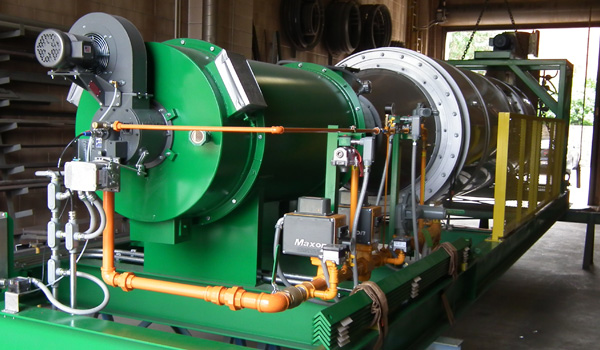 Customer: Hepar Bioscience
Website: www.heparbio.com
Project Location: Dennison, Iowa
Project Completion Date: August 2013
System Size: SPD 500
Finished Product: DAF Solids (Feed Supplement)
Project Description: Uzelac Industries Drying System consists of a 2.5mm BTU Burner supplied by Maxon, a Uzelac Industries Furnace, a Uzelac Industries single pass drum, 4'6" diameter X 15' long, with a 25 HP Fan and air scrubber system provided by AC Corporation. The product out feed system consists of a Uzelac Industries Product Collector and high efficiency dust cyclone feeding a Kice pneumatic product collection system. Systems Controls designed and provided by Uzelac Industries are Allen Bradley Panel View PLC controls. The system is designed to process ½ ton per hour of process wastewater solids at 70% moisture content and dry them to 10% moisture content. The system is primarily stainless steel construction and shipped pre-assembled and pre-wired on a painted hot rolled steel structural frame.
---
Project Gallery