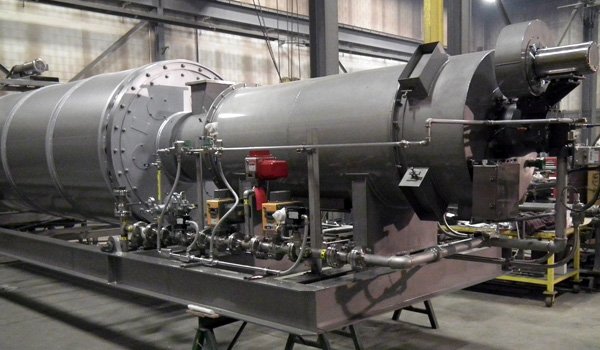 Customer: Hepar Bioscience
Website: www.heparbio.com
Project Location: North Sioux City, SD
Project Completion Date: January 2014
System Size: TPD 1500
Finished Product: Pork Skin Residue (Feed Supplement)
Project Description: This Uzelac Industries Drying System consists of a 5.6mm BTU Burner by Maxon, a Uzelac Industries Furnace, a Uzelac Industries triple pass drum, 5'6" diameter X 17'5" long, with a 50 HP Greenheck stainless steel fan. The product out feed consists of a Uzelac Industries fabricated Product Cyclone and Torit supplied Bag Filter House. The system is supplied pre-assembled and per-wired on a stainless steel structural frame. Systems Controls designed and provided by Uzelac Industries are Allen Bradley Panel View PLC controls. The system is designed to process 1.5 tons per hour of animal by-product at 65% moisture content and dry it to 5% moisture content. The entire system is constructed of 304/309/316 Stainless Steel. The system is shipped pre-assembled and pre-wired on a painted hot rolled steel structural frame.
---
Project Gallery