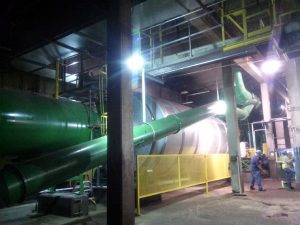 Customer: JBS USA, LLC
Website: www.jbsusa.com
Project Location: Grand Island, Neb.
Project Completion Date: July 2014
System Size: TPD 10000BB
Finished Product: Cattle Meat and Bone Meal (Animal Feed Supplement)
Project Description: This Uzelac Industries Drying System consists of a 30mm BTU Burner supplied by Maxon, a Uzelac Industries Furnace, a Uzelac Industries Triple Pass Drum, 11'8" diameter X 30' long, with the Uzelac Industries exclusive BB (Big Belly) feature, expanding the outer cylinder, adding capacity in a smaller footprint. The system also included a Greenheck 200 HP fan, large drop out elbow and dual 78" high efficiency cyclones. Systems Controls designed and provided by Uzelac Industries are Allen Bradley Panel View PLC controls. The system is designed to process 15 Tons per hour of meat and bone meal at 55% moisture content and dry it to 10% moisture content. The system is constructed of primarily of hot rolled steel.
---
Project Gallery