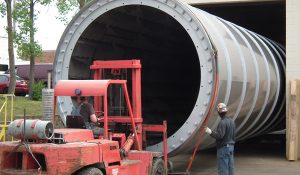 Customer: Michael Foods
Website: www.michaelfoods.com
Project Location: Wakefield, Nebraska
Project Completion Date: September 2013
System Size: SPD 12000
Finished Product: Dried Poultry Manure (Fertilizer)
Project Description: This Uzelac Industries, stainless steel, single pass, 12' diameter X 50' long, drum replaces a Duske Drying Systems drum that was installed in 1990. This drying system has been processing 15 Tons per hour of Layer Poultry Manure at 75% moisture content and drying it to 8% moisture content. The drying system has operated 24 hours per day, 7 days per week for numerous periods of time since 1990.
---
Project Gallery