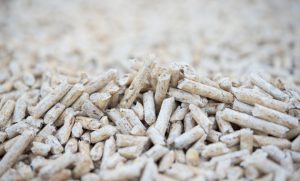 After several years of peaks and valleys in demand for biomass wood pellets, Japan has witnessed a steady acceleration of wood pellet imports over the past 12 months. In July of this year, Japan imported roughly 52,000 tonnes of wood pellets, surpassing the previous high of 51,500 from December of 2015. Not only have monthly tonnage amounts experienced a significant uptick, but overall monthly volumes in 2016 have demonstrated a greater level of consistency when compared to the somewhat sporadic demand that characterized most of 2014 and 2015. In light of this encouraging uptrend, it is estimated that Japan will finish out 2016 with total wood pellet imports ranging between 350,000 to 400,000 tonnes, but it doesn't stop there–the general sentiment from producers around the world is that Japan's demand for biomass wood pellets will eclipse 1 million tonnes per year within the next three to five years.
Japan's burgeoning demand for wood pellet imports is primarily due to the aggressive energy policy initiatives that have been introduced by the nation's Ministry of Economy, Trade and Industry (METI) in order to reduce its dependence upon traditional fossil fuels as an energy source. The need to diversify the nation's energy mix has been further exacerbated by the growing problems created by the Fukushima earthquake in 2011, which forced a complete shutdown of Japan's nuclear power plant stations in May of 2012. While two of the country's nuclear reactors have resumed operations in recent months, there is still a sizable gap in Japan's overall energy capacity. This has forced the country to pivot to increasing liquid natural gas (LNG) and coal-based energy production as a baseload power solution. One of the most significant developments along these lines is the recent announcement by Japan's Environment Ministry in February, which stated that the country intends to build 43 high-efficiency coal-fired power plants over the next 10 to 12 years. This robust expansion of the country's coal-based energy capacity is viewed as a boon for biomass wood pellet producers, as Japan's stringent emissions targets for these new coal power stations will virtually guarantee a need for co-firing with wood pellets.
The U.S. is well-positioned to take advantage of this increased Japanese demand for biomass wood pellets. With a highly developed forestry industry that includes 18 pellet manufacturing facilities in the Southeastern region alone, the U.S. has the capacity to offer biomass wood pellet products that meet the standards for quality, sustainability and reliability that have been outlined by Japanese importers. For example, Japan requires all imported wood pellets to be Forest Management (FM) certified, and although these requirements pose a hurdle to Japan's neighboring exporters in the Asian region (e.g., Vietnam), the U.S. has the industrial capability in place to supply the type of wood pellets that meet this criteria.
While Japan plans to double down on coal-based energy production, the policy mandates that METI has introduced in order to encourage greenhouse gas mitigation look to require co-firing with biomass products. This presents a unique opportunity for the U.S. wood pellet export market, and as Japanese demand for wood pellets shows no signs of slowing any time soon, conditions are ripe for a long-term trade partnership that offers significant benefits for both parties.