Uzelac Industries is a dynamic design-build manufacturing company base in Greendale, Wisconsin with rotary drying systems in operation worldwide.
Uzelac Industries was originally comprised of two operating divisions: Industrial MetalFab Specialties and Duske Drying systems. These companies have over 40 years experience behind the custom design and fabrication of our exclusive systems.
---
Uzelac Ind. In Focus…
Message from the CEO
As Uzelac Industries, Inc. successfully moves into our second decade of Business, we have taken on a new look. Uzelac Industries has and always will embody the ideals of the organizations that helped create us. The skill and craftsmanship of Industrial MetalFab, the custom engineering and product design of Duske Drying Systems and the shared core values of Integrity, Customer Satisfaction and Innovation.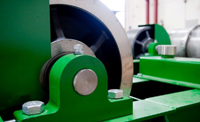 While our structure and Logo have changed our relentless pursuit and uncompromising commitment to our core values remain constant.
Visually and structurally we will be presenting ourselves as Uzelac Industries, Inc. and no longer will carry divisional names. To our current customers, you can expect the same level of service and responsiveness from the same people. In fact, you will see the 'Duske' name in the new logo, out of respect for the over 30 years that Duske has developed it's very strong customer base.
To our prospective customers, check us out! You can expect quality product and process expertise, along with the same service and responsiveness that our current customer base has experienced for over 30 years.
We look forward to the opportunity to work with you.
Respectfully,
Michael Uzelac
President/CEO