Service
We handle all of our own service calls to help remedy any mechanical issues quickly. Give us a call today to get detailed information.
SERVICE AGREEMENTS
Uzelac Industries offers maintenance agreements on all rotary dryer systems including our installations and those of competitors.
These are unique to each customer, but typically include the following:
Check and document condition of mechanical equipment including Rollers, Trunnions, Tires, Seals, Airlocks, Chain, Sprockets, Burners, Fuel Train, Conveyors, Fans / Blowers, Ductwork and General Drum Condition.
Measure and document: Airflow (using UI measurement equipment); Temperatures (using UI measurement equipment as well as readings from the control equipment); Type and condition of the control system and Fuel and product feed systems.
Provide a summary of all gathered data
Recommended process and / or set point changes
Review of the condition of the mechanical equipment
Provide details of system changes and improvements
Provide an itemized list of all required maintenance and repairs
Provide Recommendation(s) for further investigation if necessary (i.e. Some issues may require access to the drum during shut down)
Provide refresher training, or training for new operators
Uzelac Industries can rebuild or repair your M-E-C Hammermill!
Are you having issues with your old M-E-C Hammermill or need spare parts? As the only approved M-E-C equipment supplier, we can help you with that!
Here are some items we can provide:
HM6-D3 - Hammermill Rotor for Series 2445 Hammermill
HM6-D4 - Hammermill Rotor for Series 3645 Hammermill
(Rebuild cost is determined by how much wear to each rotor.)
Hammermill Hammers, Pins, and Screens:
2445 Hammermill Rotors:
HM9-A4-64 – Hammers
HM10-A2 – Pins
3645 Hammermill Rotors:
HM9-A4-96 – Hammers
HM10-A3 – Pins
Screens are sizes vary:
Perforation, Thickness, and Size (Length, Width, Radius)
Please give us a call at 414-529-0240  for your free consultation today!
TRACK GRINDING
AN EXAMPLE OF SERVICES WE PROVIDE
Uzelac Industries offers track grinding to restore the load-bearing surfaces of your rotary drum (tires and trunnion wheels) to a just installed condition.
Over time, through continued use, tires and trunnion wheels can become worn, resulting in pitting, ridges, and uneven wear. These, along with other issues, can cause the weight of the drum to be unevenly distributed. This misalignment can reduce the lifetime of other drum components, create downtime, and require the replacement of expensive equipment earlier than typically necessary.
Grinding the tires or the tracks restores the face of these load-bearing surfaces, and is a cost-effective way to extend the life of your system.
When the Uzelac technician arrives, they will observe the current functioning of your system, check the mechanical equipment including: rollers, trunnions, tires, chains, and general drum condition and make recommendations. After grinding, they will adjust the trunnions to allow for a smooth flat surface and verify that the drum is in alignment.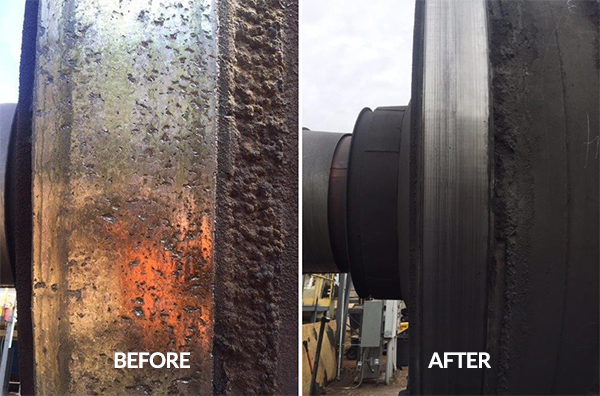 If you observe that your drum is creating chirping vibrational noises or has pitting, ridges, or washboarding, reach out Uzelac to get a quote for track grinding.
READY FOR A QUOTE?
Contact us today. We would love to hear from you and answer any questions you might have.
You can email us at info@uzelacind.com
or Fill out the form and someone from our team will get back to you right away.
or You can give us a call at 414-529-0240.